Michael Makhal (ALCM) is a Western Classical Violinist, Conductor and Music Composer from India. He is an Associate of London College of Music – the University of West London in Music Literacy (Music Composition). Michael has studied Orchestra Conducting with Italian Pianist, Composer, and Conductor Maestro Alessandro Viale at the Luci Della Ribalta International Festival in Narni, Italy from 2016 to 2018.
Michael Makhal is one of the very few Indian Orchestra Conductors the country has today. He was always fascinated about conducting because of his father Maestro Ananta Makhal, who was the conductor of the Calcutta Chamber Orchestra. Michael would attend the Orchestra practice session every morning at the Oxford Mission School as a young Violinist under the baton of his father. He gave his first concert with a Symphony Orchestra as a Violinist when he was 11 and professionally, when he was 14. At the age of 17 he became the youngest member of the Delhi Symphony Orchestra. His love for Conducting and Composing music took him to places. He conducted music orchestra in Italy and Hungary other than India. His compositions have been performed in the Cultural of Glasgow Commonwealth Games 2014 and many prestigious events in India, Europe and the US. Michael Makhal is a prominent Conductor from Hyderabad, India. Michael Makhal's notable works are mainly from the chamber compositions, namely Elgar's Serenade for Strings, Vivaldi's Double Violin Concerto, Mozart's Divertimento and a number Indian style compositions which he wrote himself for chamber orchestras. 
Michael is the founder of the Indo-European Chamber/Youth Orchestra, which is probably the first Indian Western Classical Music Orchestra to perform in Europe. The Indo-European Orchestra created performed in Budapest, Hungary at the Danube Palace on 18th August 2019 creating a historic moment for India. In 2022, once again IEYO has enthralled the audience of Hungary with the concert at the Festetics Palce on 14th August. In both the occasions the ensemble had a packed and extremely enthusiastic audience who clapped and hummed with them and treated with multiple curtain calls and long applause. IEYO is an ensemble of its own kind. In 2022, they had musicians from various states of India, also citizens of the USA, Australia, South Korea, and Hungary. The ensemble performed a great repertoire namely, Spirit of India, Suswagatham, Elgar's Serenade, Mozart's Divertimento, Hungarian Dances by Brahms, Vivaldi's Violin Concerto and more.
In 2023, Michael is once again taking an ensemble of young and adult musicians from India to Hungary for the Grand Budapest 2023. This time the concert would be taking place at the Royal Palace of Godollo, a very prestigious venue for Classical music concerts. Michael Makhal as a conductor would be conducting and leading the ensemble at the Grand Budapest Concert from the third time with IEYO.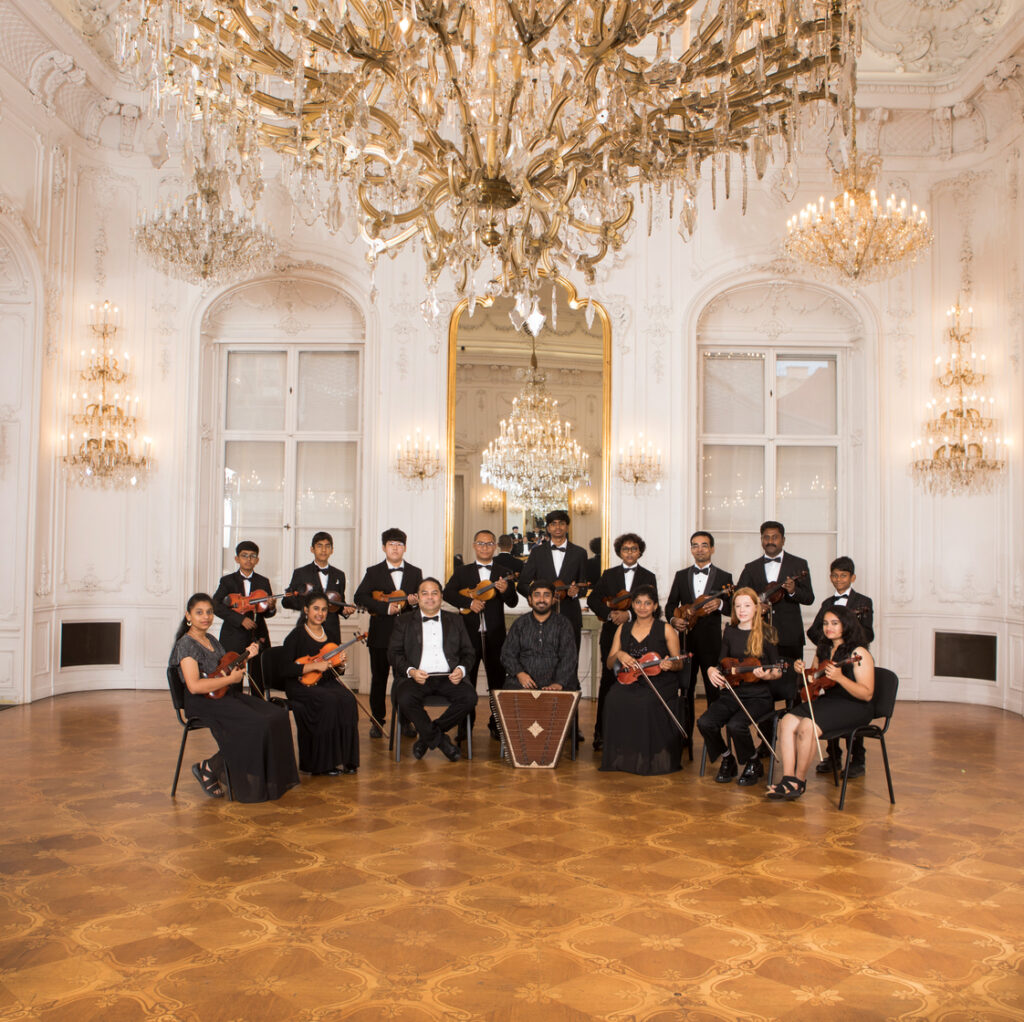 Michael was born in a musical family in Kolkata. Ananta Makhal, his father, was an eminent Violinist and the Conductor of the Calcutta Chamber Orchestra and OM Orchestra. Michael also works in the Indian Film Industry, plays Violin, Composes Songs and Soundtracks for Movies. Michael is currently composing Chamber Music and Symphonies for International artists and Orchestras in the USA and Europe.
​Michael's notable success came as a Western Classical Music Composer when he won the selection of representing the Indian Commission at the Commonwealth Games 2014 as a Composer. He has been chosen by 'The Scokendia Ensemble' (Glasgow Cultural 2014) through an international contest and commissioned professionally to compose/write a fresh piece for the ensemble, which he named The Spirit of India and had been performed during the Commonwealth Games 2014 at Glasgow – Scotland in several venues, having its World Premiere at the prestigious Stevenson Hall on 25th July 2014.
Maestro Michael Makhal is currently working on a couple of very interesting international projects – composing original chamber music and symphonies for some amazing orchestras and talented artists. He conducts in IEYO regularly, also, he has a professional Symphonic Orchestra for private events, which performs for esteemed event around India at extremely prestigious venues and for elite clients.
Twitter: @mrmakhal
Michael Makhal Contact: makhalsymphony@gmail.com