Daniel Barenboim is one of the world's most renowned classical musicians, but he has announced that he will be stepping down from his position as music director of the Berlin State Opera due to poor health. Barenboim, who is also a conductor and pianist, has been suffering from fatigue and other health problems in recent years and has decided to focus on his health and recover fully before returning to work. This is a disappointing turn of events for those who have enjoyed Barenboim's music-making in Berlin, but we wish him all the best in his recovery.
Maestro Barenboim, who is among the legendary conductors in the world, has led the role of music director of the Chicago Symphony Orchestra, the Orchestre de Paris, and La Scala in Milan. But his lifelong main engagement with German music and his profound interest in the country's post-cold war reunification led to him committing himself passionately to Berlin. It is equally heartbreaking for the orchestra and for his loyal audience to let him go. However, many believe, it is indeed best for the maestro to take a break and take care of his health.
After performing in Buenos Aires, Barenboim made his international debut as a pianist at the age of 10 in 1952 in Vienna and Rome. In 1955 he performed in Paris, in 1956 in London, and in 1957 in New York under the baton of Leopold Stokowski. Regular concert tours of Europe, the United States, South America, Australia, and the Far East followed thereafter. In June 1967, Barenboim and his then-fiancée Jacqueline du Pré gave concerts in Jerusalem, Tel Aviv, Haifa, and Beersheba before and during the Six-Day War. His friendship with musicians Itzhak Perlman, Zubin Mehta, and Pinchas Zukerman, and his marriage to du Pré led to the 1969 film by Christopher Nupen of their performance of the Schubert "Trout" Quintet. Following his debut as a conductor with the English Chamber Orchestra in Abbey Road Studios, London,
in 1966, Barenboim was invited to conduct by many European and American symphony orchestras. Between 1975 and 1989, he was the music director of the Orchestre de Paris, where he conducted much contemporary music. Barenboim made his opera conducting debut in 1973 with a performance of Mozart's Don Giovanni at the Edinburgh Festival. He made his debut at Bayreuth in 1981, conducting there regularly until 1999. In 1988, he was appointed artistic and musical director of the Opéra Bastille in Paris, scheduled to open in 1990, but was fired in January 1989 by the opera's chairman Pierre Bergé. Barenboim was named music director designate of the Chicago Symphony Orchestra in 1989 and succeeded Sir Georg Solti as its music director in 1991, a post he held until 17 June 2006. He expressed frustration with the need for fund-raising duties in the United States as part of being a music director of an American orchestra.
President of the East Berlin Jewish Community Peter Kirchner, President of the Federal Republic of Germany Richard von Weizsäcker, and Barenboim visit the Jewish cemetery in Berlin-Weissensee (1990) Since 1992, Barenboim has been music director of the Berlin State Opera and the Staatskapelle Berlin, succeeding in maintaining the independent status of the State Opera. He has tried to maintain the orchestra's traditional sound and style. In the autumn 2000, he was made conductor for the life of the Staatskapelle Berlin. On 15 May 2006, Barenboim was named principal guest conductor of La Scala opera house, in Milan, after Riccardo Muti's resignation. He subsequently became the music director of La Scala in 2011.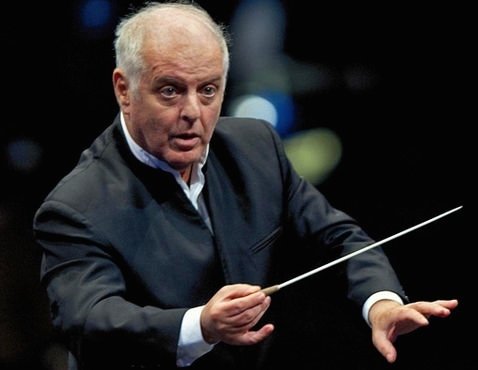 In 1999, Barenboim and Palestinian-American intellectual Edward Said jointly founded the West–Eastern Divan Orchestra. This initiative brings together, every summer, a group of young classical musicians from Israel, the Palestinian territories, and Arab countries to study, perform, and promote mutual reflection and understanding. Barenboim and Said jointly received the 2002 Prince of Asturias Awards for their work in "improving understanding between nations". Together they wrote the book Parallels and Paradoxes, based on a series of public discussions held at New York's Carnegie Hall. In September 2005, presenting the book written with Said, Barenboim refused to be interviewed by uniformed Israel Defense Forces Radio reporter Dafna Arad, considering the wearing of the uniform insensitive for the occasion. In response, Israeli Education Minister Limor Livnat of the Likud party called him "a real Jew hater" and "a real anti-Semite".
It is with a heavy heart that we must report that legendary conductor Daniel Barenboim has announced his resignation from his role as Music Director of the Berlin State Opera due to poor health. Barenboim, who has been a hugely influential figure in the world of classical music for over five decades, has been battling health issues for some time and has now decided to step down from his position in order to focus on his recovery. It is really heartbreaking to see such a great artist and conductor leaving the stage, but we wish Daniel all the best in his retirement and hope that he makes a full and speedy recovery.